Get the "Control Service Startup Error"
2014/07/14 14:48
1. Perhaps you have checked "NT service" in CCProxy.
If so, please make sure that CCProxy service as bellow is running well.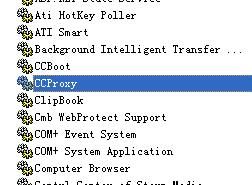 And you can also uncheck this option and then recheck it after restart CCProxy to have a try.
2. If you have installed Proxycap, it may cause this problem so please remove proxycap and reinstall CCProxy.
(Thanks for Ben McDermott providing)
3. In CCProxy install folder (like C:\CCProxy), please open "CCProxy.ini" file and find "Control=8000", change 8000 to another port which has not been used by other applications.
4. CCProxy also uses Port 8001, please make sure this port is available for CCProxy.
Related: