Protect Game Account from Blocking with Proxy Server
2015/07/17 14:58
In fact,most of the game players have multiple game accounts, some of them play games for fun, and some of them make it as a career, which can help those hobbyist to improve game levels, get more skills in the games, and make their game life more wonderful. But game operators only allow to register one account with one IP address, and only local IP can play local games, this make difficult for these businessman who provide leveling service, because they have multiple customers from all over the world, only one IP address is too less,then they need to rent servers worldwide and buy more IP addresses, these still not enough, how to use multiple IP address to play games?
Now, proxy server CCProxy multiple outgoing IP can help, how many IP addresses in the server, and how many IP addresses could be used by clients to access the Internet, you can use multiple IP addresses to play games, no need to worry about IP address is blocked and can't play games. Multiple IP addresses mean multiple game accounts, this not only guarantee the safe of game accounts, but also help you earn more. Below are the details instructions to show you how the multiple outgoing IP function of CCProxy will work.
1. Sever settings
1) Click the "Options" button on the main interface of CCProxy.
2) Pop up the "Configuration" dialogue box, click the server IP address drop list, you'll see multiple IPs of the server, suppose there're four IP addresses here, 172.16.36.3, 192.168.1.147, 192.168.101.1 and 192.168.107.1 (Figure 1-1).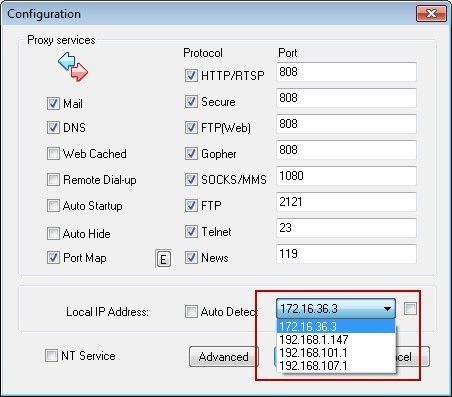 Figure 1-1
Note: CCProxy doesn't provide IP addresses.
3) Select the "Auto Detect" check box and then click the "Advanced" button (Figure 1-2).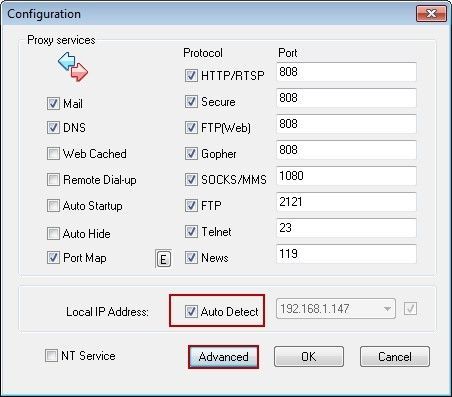 Figure 1-2
4) In the pop up "Advanced" dialogue box, click the "Networks" tab, uncheck the "Disable External Users" check box, select the "Enable Multiple IPs Outgoing" check box, then keep clicking the "OK" button to the main interface (Figure 1-3).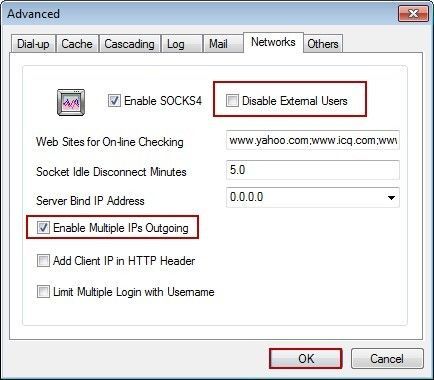 Figure 1-3
Note: It is advised to select the "Enable SOCKS4" check box.
2. Client Settings
1) Configure proxy settings for IE, in the "Proxy address to use" edit boxes, you can use any one of the IP address of the server, 172.16.36.3, 192.168.1.147, 192.168.101.1 or 192.168.107.1 (Figure 1-4). If you choose the IP address 192.168.1.147 as the proxy address, then it's the same IP which you used to access to the Internet.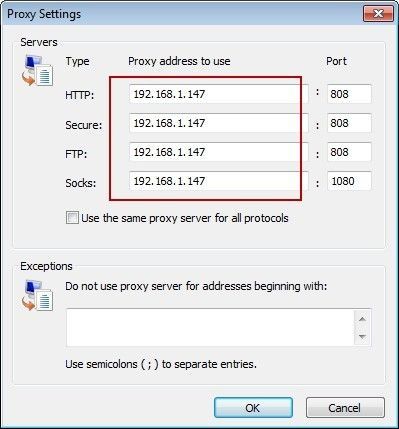 Figure 1‑4
Note:
Above multiple outgoing IP function is not only can be used on IE, also can be applied on others software.
If you need any more information about multiple outgoing IP for proxy server CCProxy, please refer to CCProxy website.
Related: