Manage the Bandwidth by Proxy Server
2015/07/17 14:55
Nowadays, Internet economy develops so fast, the business of companies can't stand alone without Internet supporting. And there're so many resource online, the daily Internet applying of employees become more and more, such as shopping, Skype, YM, online movies, p2p downloading and online games. Not only affect the work efficiency, besides bring bad results of company Internet bandwidth, browsing websites slowly, emails can't be received & sent, the key working applications can't use, more seriously, office systems are not working.
Here we introduce proxy server CCProxy to help you manage the Internet bandwidth appropriately and make full using of your company Internet resource. It's easy to use and stable. You can follow the instructions as below to control Internet bandwidth.
Control Browsing Speed, Bandwidth Control and Limit Bandwidth by Proxy Server CCProxy
You may use two parameters to control browsing speed of clients: "Maximum Connections" and "Bandwidth".
Click "Account", open "Account Manager" dialog box, select one account and click "Edit" (Figure 1-1):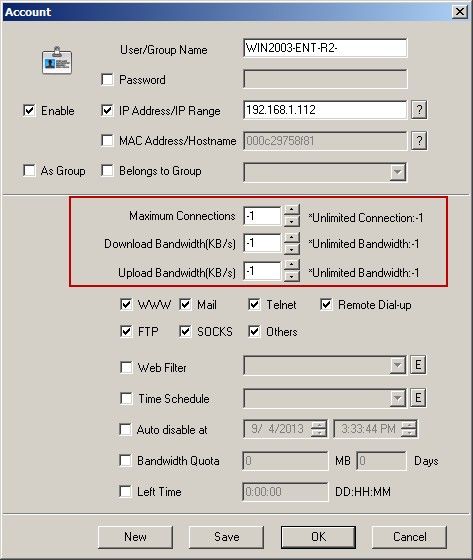 Figure 1-1
Maximum Connections refers to the maximum connections of the client to the server at the same time. CCProxy will refuse the extra connections of the client.
Download Bandwidth refers to the download KBytes bandwidth per second of the client. Upload Bandwidthrefers to the upload KBytes bandwidth per second of the client.
In most cases, we set the maximum connections for client as 5 and download bandwidth 10KB to limit the client's bandwidth.
Bandwidth Monitoring of Proxy Server CCProxy
When some users access the Internet through CCProxy, you will find a moving yellow curve on the green grids of CCProxy. It shows the total Internet bandwidth usage of your LAN. You can adjust the display scale of the yellow curve by right clicking mouse button on the green grids.
If you want to watch each user's current bandwidth, you can click "Monitor" and open "Connection Information" dialog box. Click "Account" tab, and you will see the bandwidth of each client (Figure1-2).
Bandwidth Calculation, Bandwidth Statistics of Proxy Server CCProxy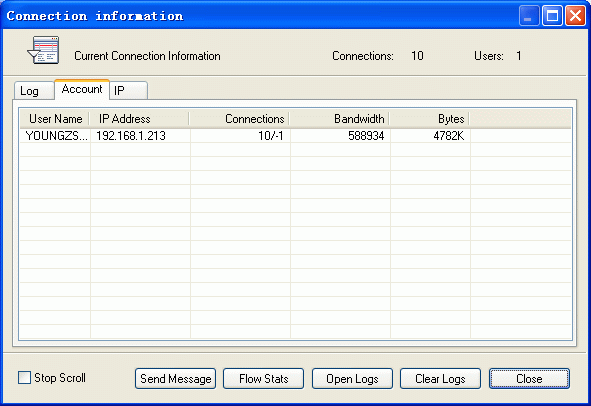 Figure 1-2
Open the "Options" dialog box, click the "Advanced" button, select the "Log" tab and check "Enable Flow Stats". "Flow Stats Time Interval (m)" means how often to do bandwidth calculation (Figure 1-3).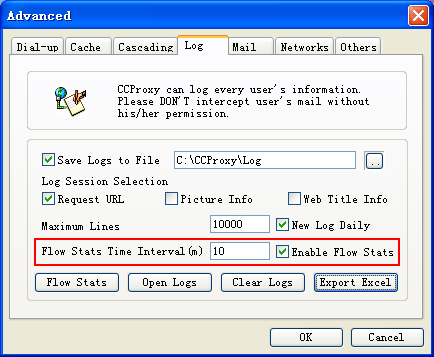 Figure 1-3
Click the "Monitor" button on the main window of CCProxy, and then click "Flow Stats" (Figure 1-4), you will see the bandwidth statistics text file.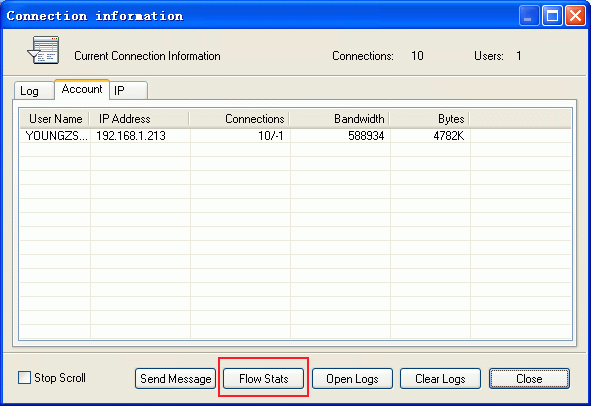 Figure 1-4
Related: