WiFi Internet Sharing - one type of wireless Internet sharing
2015/07/17 14:54
WiFi Internet sharing enables device such as a desktop, laptop, smartphone, and video game console connect to the Internet when they are within range of a WiFi network connected to the Internet. WiFi is in factwireless technology whick makes it much easier to apply Internet sharing between multiple computers and people. It's also called WiFi Internet sharing or wireless Internet sharing. No matter sharing a wired Internet connection with devices built-in WiFi wireless NIC or sharing a WiFi wireless Internet connection with other devices with wired NIC, a proxy server is an easy and efficient method.
Three steps only to allpy Wifi Internet Sharing:
Install a proxy server software such as CCProxy on a computer which is already conntected to Internet. When installation finished, CCProxy will work immediately having no use for any manual configurations.
This computer has at least two NICs, one connects to Internet while another connects to other devices via hub, switch, or a wireless device.
Now, make proxy settings for other devices so that they can access Internet via the proxy server you have just built in step1.
To implement WiFi Internet sharing, you also need to make proxy settings for network applications in the client and here's a sample for IE and Firefox -
For Internet Explorer 8.0
Press "Tools" -> "Internet Options" -> "Connections" -> "LAN Settings" -> select "Use a proxy server for your LAN" -> "Advanced", configure as bellow.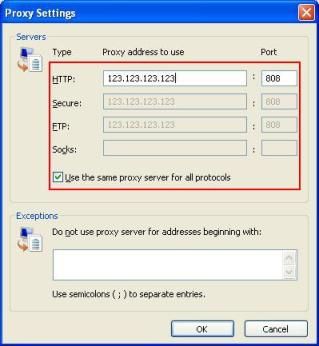 For Firefox 4.0
Press "Tools" -> "Options" -> "Advanced" -> "Network" -> "Connections" -> "Settings" -> "Manual proxy configuration", configure as bellow.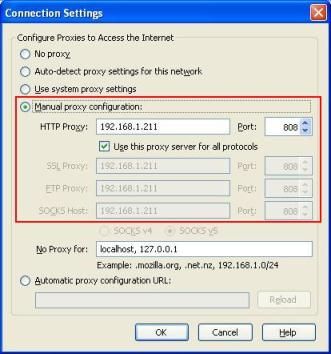 Related: