Web Cache Function
2015/07/15 17:35
CCProxy's web cache function is based on IE web cache technology. It can save the visited web pages in cache. In the specified period of time, when users want to visit the same web page they've browsed, this web page can be loaded from cache directly. Therefore greatly improves surfing speed on the Internet.
With default settings, the web cache function of CCProxy is uncheck. You need to enable the web cache function as bellow:
In "Options" dialog box, check the "Web Cached" (Figure 1).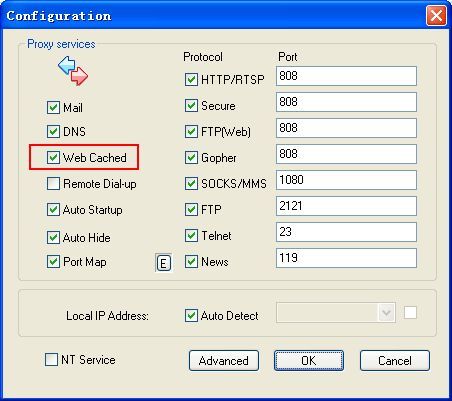 Figure 1
Note: The web cache function has been disabled in CCProxy latest version by default because web cache will occupy much memory. If you must use the web cache function, please add "WebCacheEx=1" under "[System]" in CCProxy.ini
Related: