CCProxy Basic Server Configuration
2014/06/16 17:46
On CCProxy main interface, click "Options" button, the "Configuration" dialogue box will pop up (Figure 1-1).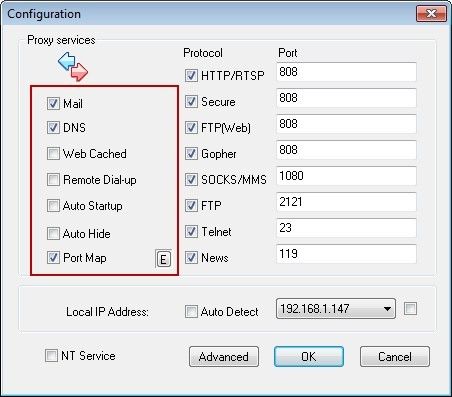 Figure 1‑1
The above picture shows the default settings, you can change them accordingly.
1. Proxy Services
1) Mail: Mail proxy service. If there is mail server installed in the server, please uncheck it.
2) DNS: Domain Name Server. If there is DNS configured in the server, please uncheck it. If you want to check this option, please set the DNS address as the IP address of the server in "Network Configuration" in clients.
3) Web Cached: It can help to improve the network access speed.
4) Remote Dial-up: It is used for dial-up automatically and it can be configured in "Dial-up" tab in "Advanced" dialogue box.
5) Auto Startup: Whether CCProxy will auto startup with the operating system.
6) Auto Hide: Whether CCProxy will hide to system tray after starting.
7) Port Map: To enable port map function (for example, Gmail needs port mapping for sending and receiving mails), please select "Port Map" check box, then click the "E" button on the right, configure in the popping up "Port Map" dialogue box, please refer to "Web Port Forward" for more details.
2. Protocol Ports
The place where proxy protocol and ports being configured. Users can enable or disable these protocols accordingly, and ports could be changed as well (Figure 1-2).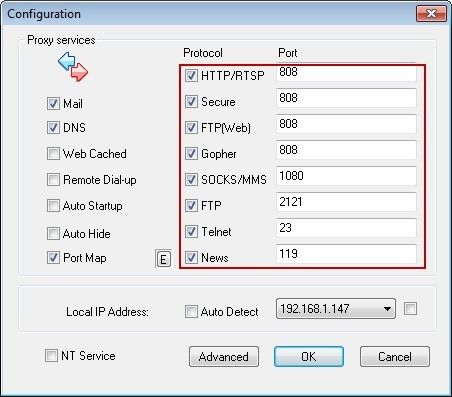 Figure 1‑2
HTTP/RTSP: Ports which clients will occupy when visiting http or rtsp sites.
Secure: Secure protocol goes with https protocol. For visiting https sites, please select it.
FTP(Web): The protocol needs to be enabled when visiting FTP sites through explorer.
Gopher: Gopher protocol enables all the Gopher client programs in Internet to communicate with the entire "registered" Gopher server in Internet.
SOCKS/MMS: Support both TCP/UDP protocol, and various authentication mechanisms, such as QQ, MSN and so on.
FTP: Protocols need to be enabled when visiting FTP sites with FTP clients (such as CuteFTP).
Telnet: Telnet protocol is one member of the TCP/TP protocols, and the standard protocol and the main method of Internet remote login service. It enables users to finish remote host machine's work on local computer.
News: News protocol.
3. Auto Detect
1) If clients need multiple outgoing IPs, please select "Auto Detect" check box.
If clients need to use the specified IP, please firstly uncheck "Auto Detect" check box, then select an IP address in the combo box, and finally select the check box on the right side (Figure 1-3).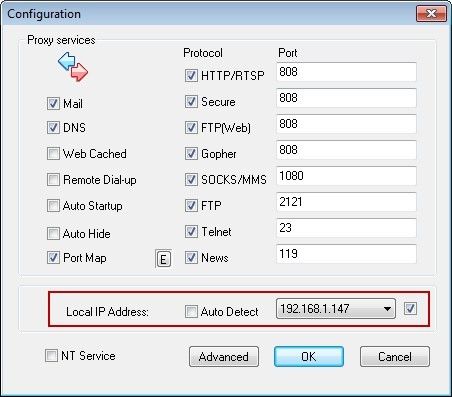 Figure 1‑3
2) NT Services: CCProxy would start as a NT service, which means even the main interface of CCProxy closed, CCProxy would still run in backstage.
Related: