How to Access Blocked Websites with CCProxy Step by Step
How to access blocked websites is a frequently asked question nowadays. Almost most of us normally face the situation when we try to access a particular website like Orkut, Myspace, Youtube, Facebook and any other blocked websites from school, college or office we get the message at the browser which normally says "This Website is blocked".
So, today I will share the solution: How to access blocked websites like Orkut, Myspace, Youtube, Facebook etc from your work location.
Well there are numerous ways to do this, one of them is to use some free proxy server addresses that you can hunt for but most of the time they don't work and if they work you can't use them for a long time. So one of the most effective method is to use some free proxy server softwares like JAP (Java Anonymity and Proxy) which switches the proxy server address automatically and lets you connected all the time.
But still some of people like Larith from UAE doesn't find JAP a good option as it is very slow in connecting to various blocked websites and banning of various social networking websites is also at a very high strength in UAE. So for those who are not able to connect to the banned websites with JAP can use CCProxy which is another free proxy server software which enables you set up your own proxy server and realize Internet connection sharing within 10 minutes.
What is CCProxy?
As a Windows server proxy server software, CCProxy lets all computers on the LAN access Internet through one single Internet connection. Just need to install Proxy Server CCProxy on the server which can access Internet directly and the other PC clients can connect to the Internet through the proxy software. But what if you don't have any server which has a direct connection to internet. Don't Worry you can still access blocked websitesusing CCProxy software.
Step by step solution for accessing any banned or blocked website using CCProxy.
1. Download and install CCProxy on your computer.
2. Run CCProxy and then click "Options" -> "Advanced" -> "Netowkrs", click to not select the "Disable External Users" check box as bellow.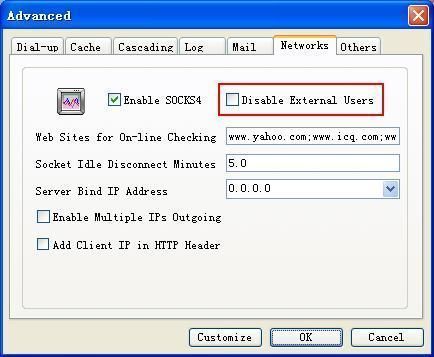 3. Now you need to make proxy server settings in your browser lets say Internet Explorer in your case to use CCProxy to access blocked websites at your workplace.
4. Open IE (internet explorer) go to file menu -> tools -> internet options, now click on the connections tab.
5. Click "LAN Settings", and configure according the snapshots given below.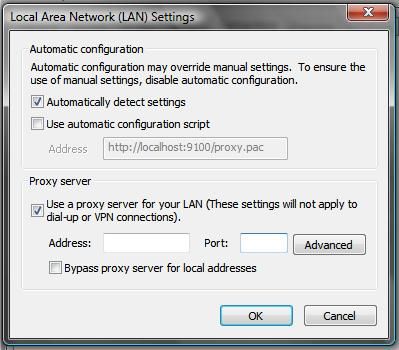 Then click the advanced button.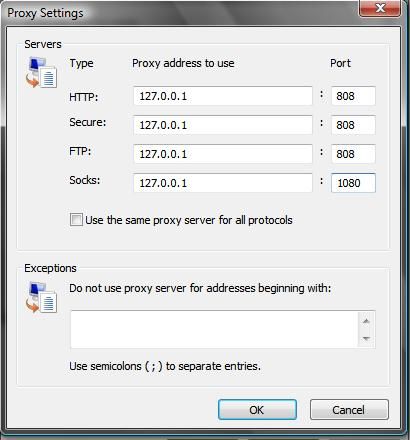 6. That's it done. Now you can freely access blocked websites such as Orkut, Myspace, Youtube and Facebook.
Thank Abhishek Bhatnagar - the original author.