The Shortcuts of Proxy Server CCProxy
2015/07/17 14:57
Although you have used CCProxy for a long time, maybe you still don't know all of its shortcuts, now, I'll show you the surprise.
Open the main interface of CCProxy, do the following operations (Figure 1-1), you will find surprises.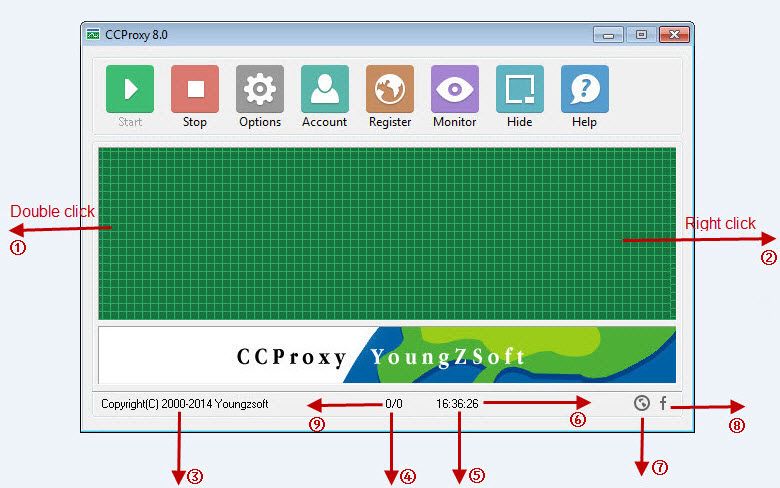 Figure 1-1

1) Sign 1- Double click the grid, the "Current information" dialog box will pop up, where you can check the client log, the accounts information and IP details information.
2) Sign 2- Right click the grid, pop up the "Line Chart Options" form, in which you can modify the Maximum Connections and Bandwidth.
3) Sign 3- Click the "Copyright(c) 2000-2014 Youngzsoft" text on the left bottom of CCProxy form, CCProxy website will be opened.
4) Sign 4- Double click the "0/0" text, the "Windows Task Manager" form will pop up.
5) Sign 5- Double click the time text, you can open the installation folder.
6) Sign 6- Press the "Shift" button and double click the time text at the same time, the popup dialog box display the date of lunar calendar and solar calendar.
7) Sign 7- Click the circle icon, CCProxy will update to the latest version automatically.
8) Sign 8- Click the "f" icon, you can visit CCProxy facebook.
9) Sign 9- Press the "Ctrl" button and double click the "0/0" text, a dialog box of asking whether you need to save debug info to Log\log.dat will pop up.

Believe above information will help you use proxy server CCProxy easier. More details information about CCProxy function, please refer to CCProxy website.
Related: