Lookup MAC address
Sometimes it is needed to look up MAC address of the devices like computers, routers, LAN or some others. This article describes a quick method to look up MAC address of the network adapter or adapters installed in your computer.

Lookup MAC address step by step
Click on the Start Menu.
Click on 'Run..'
Type 'cmd' without quotes and press Enter.
At the command prompt, type 'ipconfig /all' without quotes. (space between g and /)
Alternatively, if using Windows XP, you can use the command 'getmac'.
Your MAC Address is listed under 'Physical Address' as a series of 6 groups of two digits, letters and numbers, separated by dashes, such as in the image below. Make sure you get the physical address of the correct network adapter - usually there are several listed.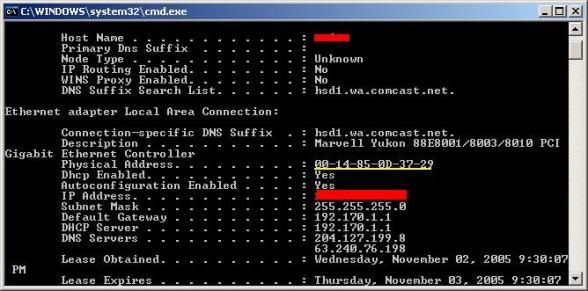 Figure - Look up MAC address
Now try yourself to
look up MAC address
of your devices consulting this instruction please.
All the above are talking about look up MAC address under Windows OS. If you are using Apple OS, please refer to -
how to get Apple MAC address