Laptop MAC address
A MAC address is the equivalent to the serial number of a network card. Each MAC address is unique, and so identifies the network card you have installed in your computer.

Your computer's MAC address in conjunction with your IP address is used to provide you with the most secure service ITS can offer.

Sometimes we need to know the laptop MAC address. Fox example, you want your laptop connect to a wireless network which is MAC address authentication needed. So you should get MAC address of your laptop first of all and here's how.

Get laptop MAC address under Windows XP
Click on the Start Menu.
Click on 'Run..'
Type 'cmd' without quotes and press Enter.
At the command prompt, type 'ipconfig /all' without quotes. (space between g and /)
Alternatively, if using Windows XP, you can use the command 'getmac'.
Your MAC Address is listed under 'Physical Address' as a series of 6 groups of two digits, letters and numbers, separated by dashes, such as in the image below. Make sure you get the physical address of the correct network adapter - usually there are several listed.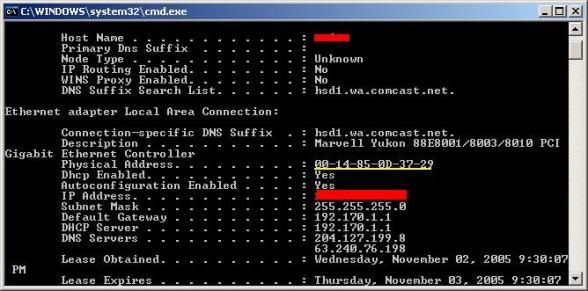 Figure - 1
Get laptop MAC address under Windows 7/2008/Vista
Open a Command Prompt window by clicking the Start button, clicking Programs or All Programs, clicking Accessories, and then clicking Command Prompt.
In the Command Prompt window type getmac (or getmac /v if your computer has more than one network adapter).
MAC address is listed as six groups of two hexadecimal digits, separated by hyphens (-) in the beginning of the line.
C:Usersadmin>getmac
Physical Address Transport Name
=============================================================
00-21-85-0C-52-A3
DeviceTcpip_{4B89E525-B2FE-4E02-B769-D671265BBDE6}